Buy the book: Kid Me Not: An anthology by child-free women of the '60s now in their 60s
Women who came of age in the '60s, and who now are in their 60s, share personal stories of how, by choice or by default, they remained child free. Their young lives were touched by a social revolution involving the Vietnam war, draft, sex, drugs, rock and roll. They were the first generation to have a real option to not have children, thanks to the advent of effective birth control. The Baby Boomers reflect on how this freedom affected them and how, today, they are changing the culture by reinventing themselves and staying young at heart.
Winner of Texas Association of Authors 2015 Best Autobiography/Short Stories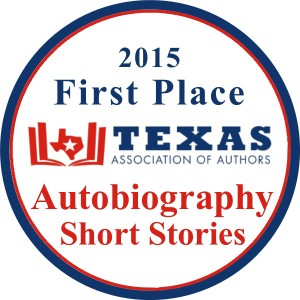 Kid Me Not: An anthology by child-free women of the '60s, now in their 60s has been awarded First Prize by the Texas Association of Authors in the 2015 category of Best Autobiography/Short Stories.
BEST OF TEXAS BOOKS AWARDED Largest Collection of Winners in Annual Contest
Austin, TX – Readers of the delightful titles selected for Texas Association of Authors (TxAuthors) Best Book Awards would agree that the selected books are winning reads and top-tier selections in their categories. By any measure, excellent books from this year's list are of stellar quality. They are delivering to readers, who love to fall into the pages, the experience of climbing out with the greatest satisfaction.
This is the fourth year for TxAuthors to select winning titles by Texas Authors. TxAuthors is currently accepting entries for books published during 2015. A sample chapter from each book can be found along with the previous year's winners at TxAuthors.com.
The winners from this year's contest will be presented at the State Capitol on April 11th. As part of the DEAR Texas event on April 12th, the authors of Kid Me Not will be at Barnes & Noble's Arboretum in Austin doing a reading and book signing books. For more details, please visit DearTexas.info.
$4000 Donated to Planned Parenthood from Initial Sales
The authors of Kid Me Not: An anthology by child-free women of the '60s, now in their 60s resolved early on to donate the first $2000 of the book profits to Planned Parenthood of Austin. The donation was made in March 2015 with a matching grant that doubled the gift.
---
Used by permission of best-selling author Elizabeth Gilbert in the forward of Kid Me Not:
HAVE YOU EVER REGRETTED NOT HAVING CHILDREN?

A dear soul on Facebook asked me this the other day, and I thought I'd make the answer public. The simple answer, blessedly, is: No.

The longer answer is that I have come to believe there are three sorts of women, when it comes to questions of maternity. There are women who are born to be mothers, women who are born to be aunties, and women who should not be allowed within ten feet of a child. It can be a tragic situation (either personally, for a family, or for the community at large) when a woman ends up in the wrong category, based on her true nature. Women who long for children but cannot have babies suffer enormously, as we know. But children who are born to inadequate or unprepared mothers also suffer enormously (and their mothers suffer, too—trapped in a responsibility that they can neither meet or enjoy).

Those of us who are natural-born aunties are luckier. We love children, we enjoy children, but we know in our deepest marrow that we are not supposed to have children of our own. And that is absolutely fine, for not every woman in history needs to be a mother. Now, listen—if you put a baby in front of me, rest assured: that baby is gonna get cuddled, spoiled and adored. But even as I'm loving on that beautiful infant, I know in my heart: This is not my destiny. It never was. And there is a curious rush of joy that I feel, knowing this to be true—for it is every bit as important in life to understand who you AREN'T, as to understand who you ARE. Me, I'm just not a mom. I create in other ways. Having reached a contented and productive middle age, I can say without a blink of hesitation that wouldn't trade my choices with anyone's.

Elizabeth Gilbert
Author of Eat, Pray, Love
~
Redefining Feminine Legacy
Aralyn Hughes, Editor of Kid Me Not: An anthology by child-free women of the '60s now in their 60s, will be the featured speaker during a 90-minute break out session of The NotMom Summit. This conference in Cleveland, OH, Oct 9-10, offers the information, conversation and 'you get me' moments you've longed for, whether you chose a life without children or once hoped for motherhood. Wondering how to create a legacy that lasts? Here's where you can find some answers.
Explore the distinctive dimensions of your life, with expert speakers from the US and UK. Get helpful tips, meet kindred spirits, and party on! Register now.
Radio Interview with Dr. Mara Karpel
Radio Interview with Chad Roper, Zoo Radio Station