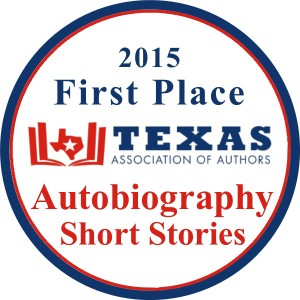 Kid Me Not: An anthology by women of the 'sixties, in our sixties has been awarded First Prize by the Texas Association of Authors in the 2015 category of Best Autobiography/Short Stories.
BEST OF TEXAS BOOKS AWARDED Largest Collection of Winners in Annual Contest
Austin, TX – Readers of the delightful titles selected for Texas Association of Authors (TxAuthors) Best Book Awards would agree that the selected books are winning reads and top-tier selections in their categories. By any measure, excellent books from this year's list are of stellar quality. They are delivering to readers, who love to fall into the pages, the experience of climbing out with the greatest satisfaction. The newest slate of winners is:
This is the fourth year for TxAuthors to select winning titles by Texas Authors.  TxAuthors is currently accepting entries for books published during 2015. A sample chapter from each book can be found along with the previous year's winners at TxAuthors.com.
The winners from this year's contest will be presented at the State Capitol on April 11th.  As part of the DEAR Texas event on April 12th, the authors of Kid Me Not will be at Barnes & Noble's Arboretum in Austin doing a reading and book signing books.  For more details, please visit DearTexas.info.